Spinach Pies: a taste of Palestine, aromas from the homeland.
As a child, the moment I would step out of the school bus, I was able to smell my mom's fatayr bi sabanikh. The mouthwatering aroma of the spinach pies would envelope me as I ran up the stairs of our building and into our home. I used to love my mama's spinach pies. Growing up, as the youngest of seven children, I never helped my mom in the kitchen. She used to cook while I was at school. In the chance that I was home when she cooked, I would watch her from beginning to end. These moments were special to me.
Not until after I was married did I begin trying to make spinach pies without the help of my mom. It wasn't until my children were born that I began experimenting with dough and making my own. I hope to pass on these recipes to my kids. They all love spinach pies so much that I now even make gluten free dough for one of daughters so that we can all experience the deliciousness of this meal.
Spinach Pies will always remind me of the smell of bread bakeries in Palestine, the smell of the homeland.
Click here to watch me teach my cousin how to make Spinach Pies on my YouTube Channel and be sure to SUBSCRIBE for more recipes!
The flour in the dough can be substituted 1:1 with gluten free flour.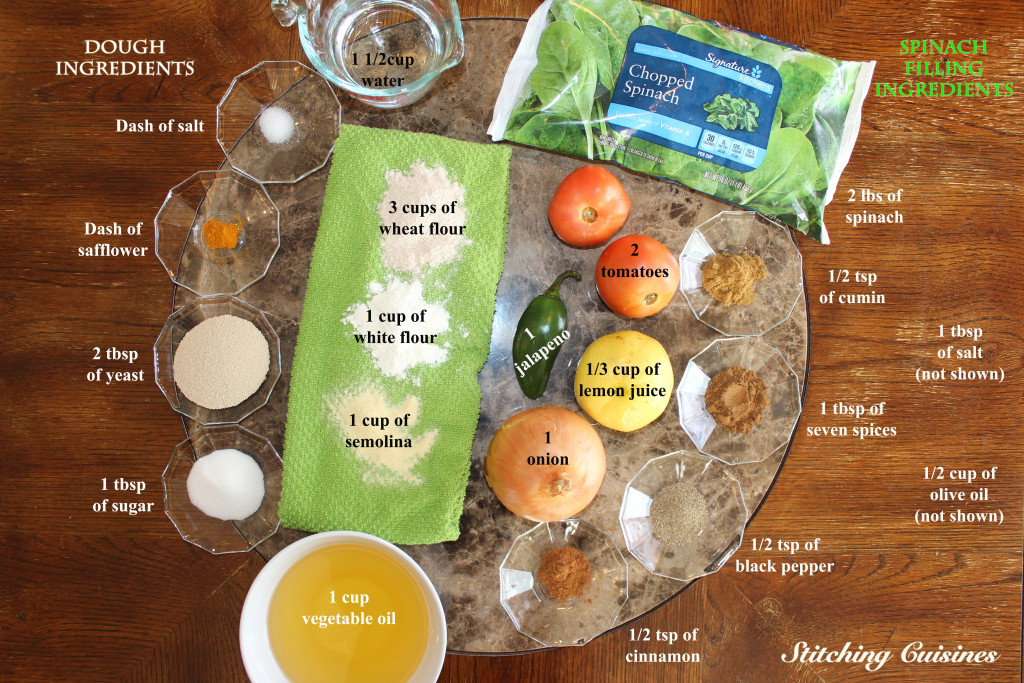 My seven spices recipe can be found here.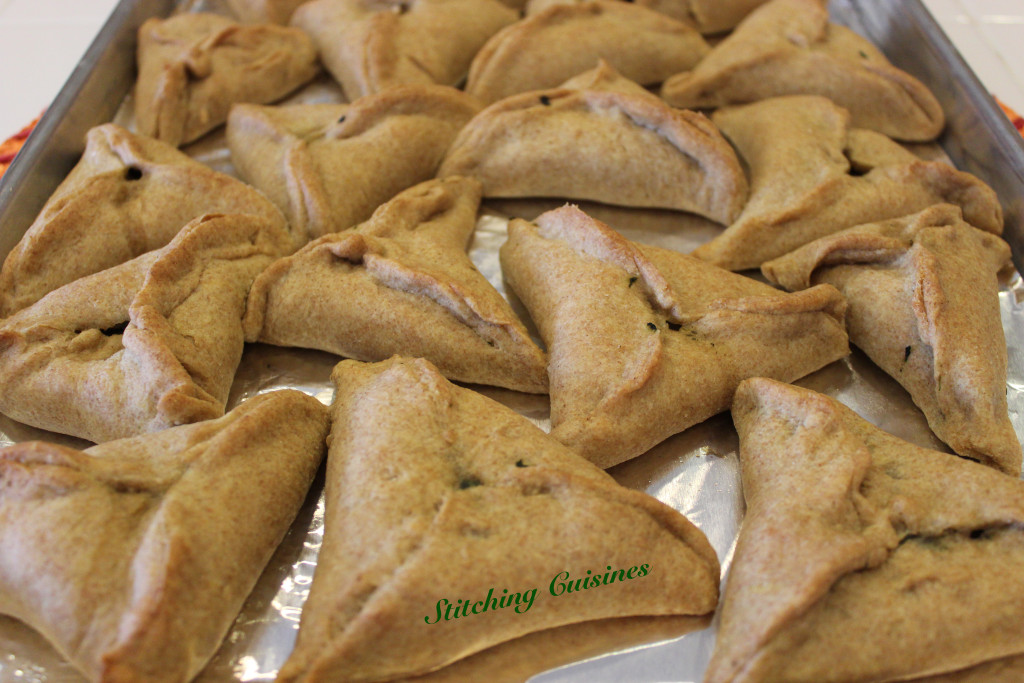 Spinach pies are traditionally eaten with tea and a side of green olives and Mediterranean pickles.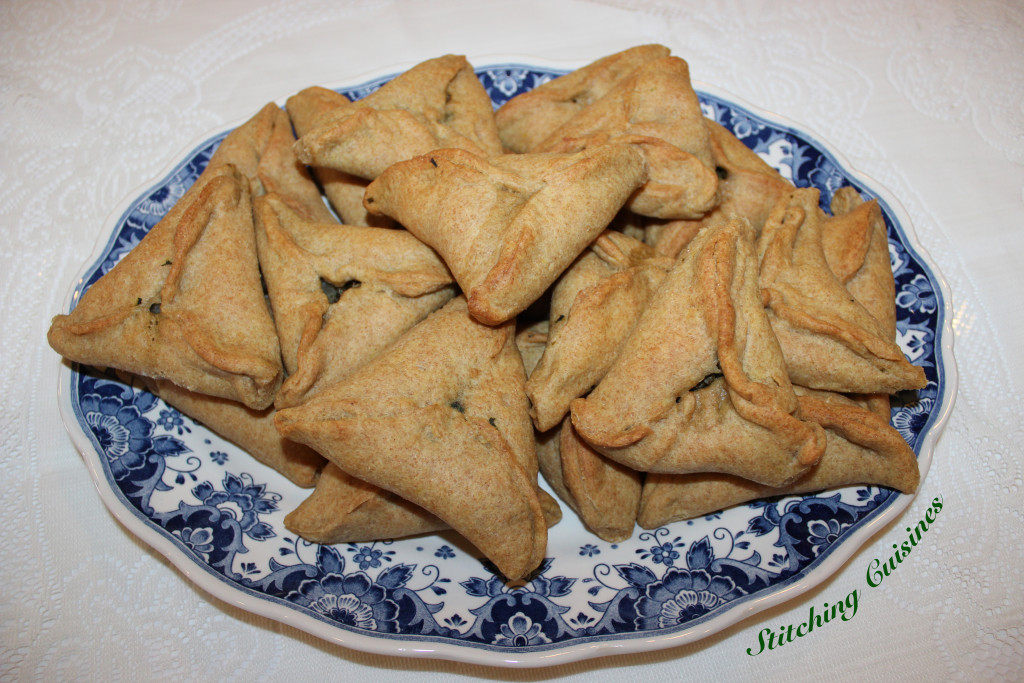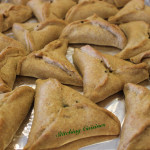 Spinach Pies [Vegan; GFO]
2015-11-12 17:24:05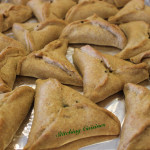 Serves 6
A savory spinach filling wrapped up in a crisp and fluffy dough.
Dough
3 cups wheat flour
1 cup white flour
1 cup semolina
2tbs yeast
1tbsp sugar
Dash of safflower
Dash of salt
1 ½ cup water
1 cup vegetable oil
Spinach Filling
2lbs chopped spinach
2 fresh tomatoes, chopped
1 jalapeno pepper, minced
1 onion, chopped
1tbs salt
1tbs seven spices
½ tsp black pepper
½ tsp cumin
½ tsp cinnamon
1/3 cup lemon juice
½ cup of olive oil
2tbs of vegetable oil
Dough
Thoroughly combine all dry ingredients (wheat flour, white flour, semolina, yeast, sugar, safflower, and salt).
Place dry ingredients in mixer and turn on to level 2. Slowly incorporate water and oil while the mixer is running. Once all the ingredients are combined, turn speed up to level 4 until a ball of dough begins to form.
If you do not have a mixer, knead your water and oil into your dry ingredients until a dough forms.
You know the dough is ready when it no longer sticks to your hands nor the bowl.
Place the ball of dough in a bowl, cover with a towel, and place in a cool dry place to rise for 30 minutes.
Spinach filling
As the dough rises, make your spinach mixture.
Add 2tbs of vegetable oil to a pot and place your heat on high. Cook your chopped onions for 2 minutes. Add cumin and stir. Add your minced jalapeno and tomatoes to the pot and cook for a few minutes. Make sure to keep stirring the ingredients. Add your spinach and stir for a bit. Add salt, seven spices, black pepper, and cinnamon. Mix thoroughly and allow to cook for five minutes.
Turn off your stove. Add 1/3 cup of lemon juice and ½ cup of olive oil. Stir well.
Assembly
Preheat oven to 375°F or 190°C and cover your pans with foil. Separate dough into little balls.
Flour your board. Roll out each ball of dough, cut into a circle and place your filling in the middle. Bring together the edges of two sides of your dough and the bottom edge to meet in the middle, stick them together, closing your pie (use video for reference). Make sure not to get any of the filling on the edge of your dough or else the liquids will prevent it from sticking.
After filling up your tray, place your pan on the middle rack in your oven.
After baking for 25 minutes on the middle rack, place your pan on the top rack and bake for another 2 minutes. This allows your spinach pies to really brown and develop that final crispy outer texture while maintaining a soft and fluffy center.
If you have the self control to not immediately devour these mouth water spinach pies, plate them nicely, and enjoy!!
This recipe is great for breakfast, lunch, or dinner. Both filling and satisfying!
Eat up!
Tatreez: Stitching Cuisines https://stitchingcuisines.com/