An okra stew, with a spicy kick.
Okra stew is a very popular dish in the Middle East that is often cooked over the stove with tender pieces of meat, either boneless lamb or beef. It was one of my favorite dishes growing up. I loved the mix of fresh tomatoes and spices that blended together to enhance the taste of this vegetable. Bamiya is a dish that always reminds me of home. It's a meal that my mother and grandmother loved to make and one that always came with a story. In Palestine, they would string fresh okra to dry for the rest of the year. There was also a special drying process for fresh tomatoes in the summer, to use all year long.
What I love the most was the extra step that both my mother and grandmother loved to take, popping it into the oven to bake! While I love this dish, I realized that my children were not big fans like me. I spent years only cooking is as a stew over the stove until my mother reminded me that the oven was a more delicious last step. She was right! My children now love Bamiya, served over a plate of white rice. I'm excited to share the Palestinian take on Bamiya fi Alforon, which directly translates into "Okra in the Oven". A recipe passed down through my family. This recipe can also be made vegan, if you choose not to eat meat. Below is the traditional recipe that I made with beef. Sahtein!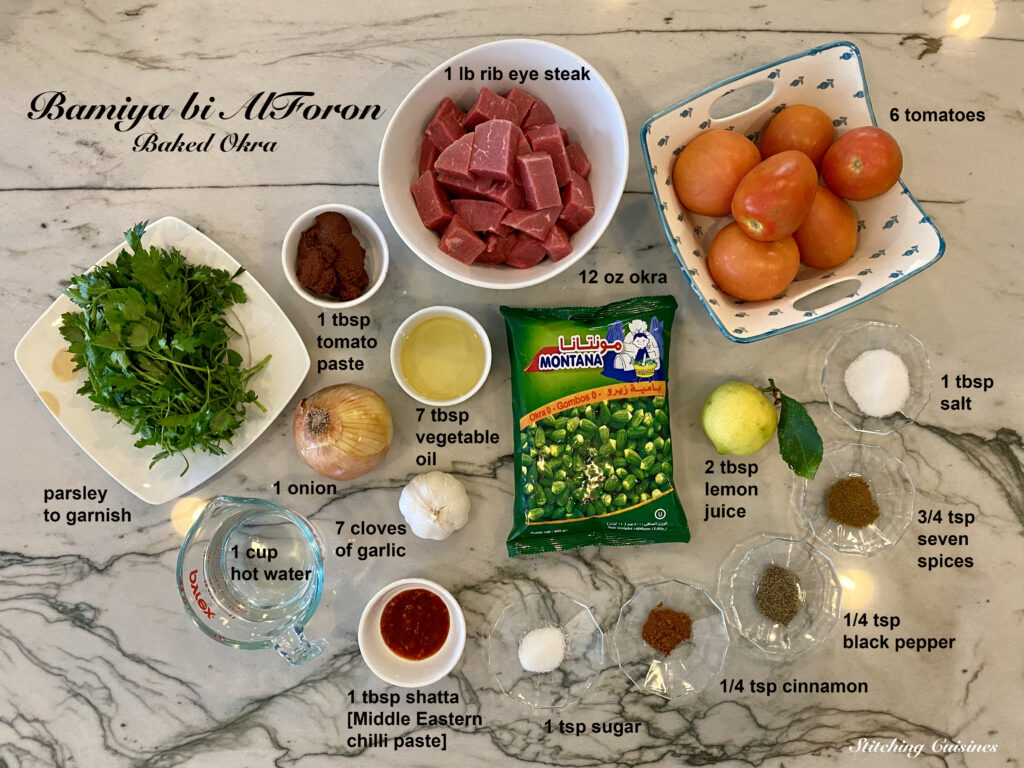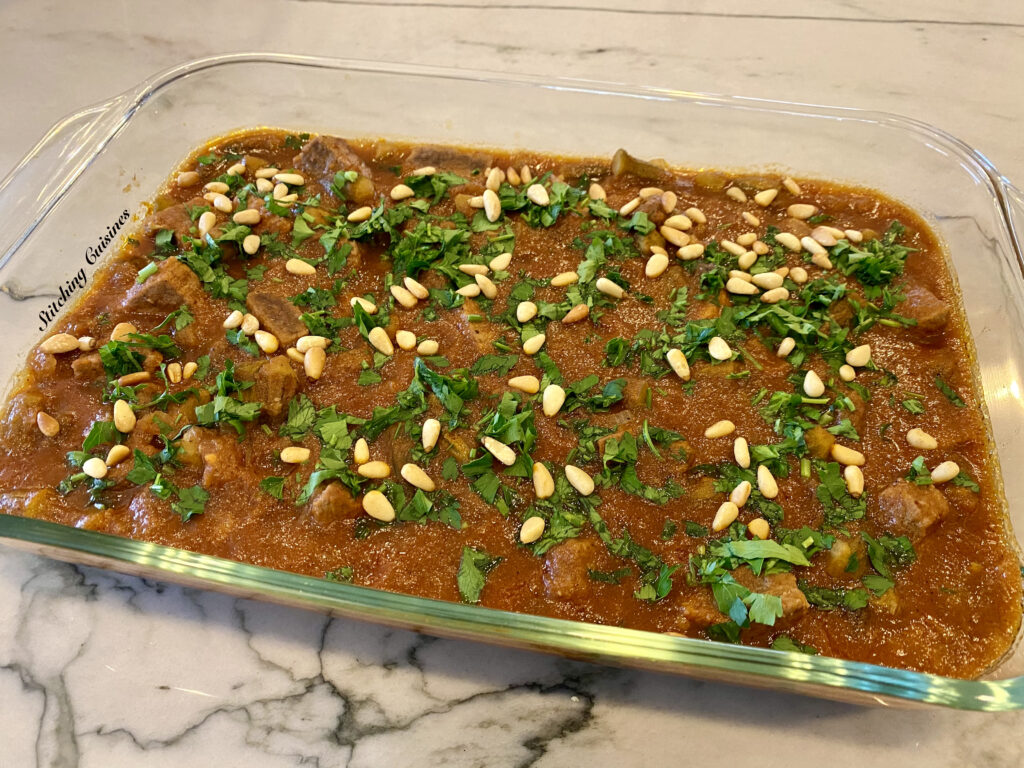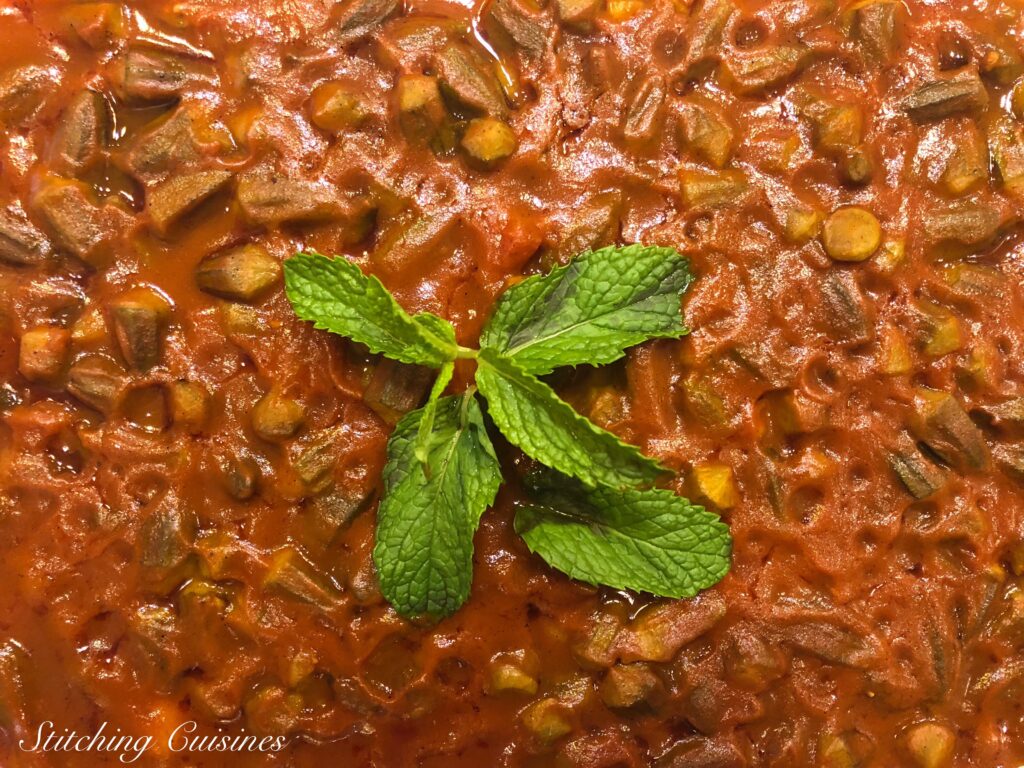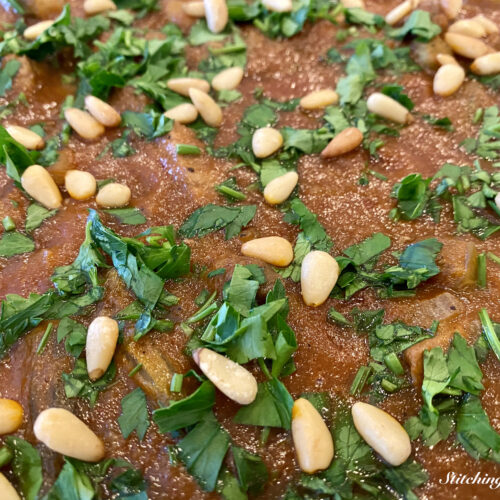 Bamiya bi AlForon (Baked Okra Stew) [GF; VO]
Okra stew with a spicy kick!
Equipment
Colander

Pot

Pan

Baking dish
Ingredients
1

lb

rib eye steak/beef

cut into squares

1

bag

frozen okra

12 oz, size 0

6

medium sized

tomatoes

peeled and blended

7

tbsp

oil

3tbsp for meat; 4 for okra

7

cloves

garlic

minced or smashed into paste

1

medium sized

onion

finely chopped

1

tbsp

salt

1/4

tsp

black pepper

3/4

tsp

seven spices

my 7 spices recipe is under Recipe" & "Spices"

1/4

tsp

cinnamon

1

tsp

sugar

1

tbsp

shatta

Middle Eastern hot sauce/chili paste or to taste

2

tsp

lemon juice

1

tbsp

tomato paste

heaping spoon

1

cup

hot water

parsley

for garnish

pine nuts

toasted for garnish
Instructions
Preparing the Meat*
Soak the meat in water and 2 tbsp of vinegar for 10 min

Add 3 tbsp of oil to a pan turn on the stove on high

Add the finely chopped onions and sauté until browned

Sauté the meat for about 10-15 minutes

Check if the meat is tender by using a spoon to cut into it

Add 1 cup of hot water, stir and cover

Lower the heat to medium and let the meat cook for about 25 min
Preparing the Okra
In a pot, heat up 4 tbsp of oil on high

Add the okra and sauté until the color changes to a lightbrown

Add the minced or garlic paste and sauté until it startsto brown with the okra, then lower the heat to medium

Add the fresh tomato purée and stir for 10 minutes

Add the rest of the salt, seven spices, cinnamon, andsugar and stir

Add the meat, now cooked, into the okra and stir for 10minutes while the heat is on low

Add the lemon juice and shatta, and stir

Transfer to the baking dish, evenly

Place the dish into the oven and bake for 25 minutes

Remove from oven and garnish with parsley and/or toastedpine nuts
Notes
*This meal can be made vegan by skipping this step and starting with the okra, all the spices will be added here.
**This dish can be enjoyed with bread or a side of rice. My recipe for rice can be found under "Sides" in my "Recipes".