A flavorful family side dish favorite!
One of my daughters introduced me to quinoa. I started creating different dishes with quinoa because my daughter is gluten intolerant and vegetarian. One of these dishes is Quinoa Salad. The texture, the multi-colors, and the dressing all create an extraordinary meal. Perfect for family gatherings.
Sahtein! Enjoy!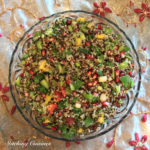 Quinoa Salad [GF, V]
2018-01-30 22:26:49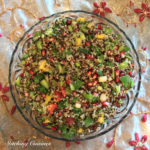 A flavorful family side dish favorite!
Quinoa
1 cup of tri-color quinoa
1 ½ cups water
¼ tsp salt (for quinoa)
¼ tsp seven spices (for quinoa)
1 green pepper
1 red pepper
1 orange pepper
1 yellow pepper
Bunch of green onions
½ bunch of parsley
½ bunch of green mint
2 stems of basil
1 jalapeño
1 cup of pomegranate seeds
Dressing
1 tsp salt
3 tbs vinegar
¼ cup pomegranate Molasses
1/3 cup olive oil
Preparing the Dressing
In a small jar shake all of the dressing and leave it to set for 30 minutes
[Prepare dressing before proceeding with the next steps]
Preparing the Salad
Wash quinoa and drain the water
Boil 1 ½ cups of water
Add salt and seven spices*
Add quinoa to the hot water
After boiling, lower the heat to low
Leave quinoa until cooked (20-25 minutes)
Chop peppers, onions, parsley, mint, basil, and jalapeño
In a large bowel, mix the vegetables, pomegranate seeds, and quinoa
Add dressing and mix all ingredients together
Enjoy!
Notes
* My seven spices recipe can be found under "Spices" on my website.
Tatreez: Stitching Cuisines https://stitchingcuisines.com/