Creamy mushroom stew with a nutty kick and basil filled aroma.
The perfect 30-min meal for any winter night.
When I found out my daughters were lactose intolerant, I wanted to create creamy meals that suited all members of my family.
This delicious dish is quick and easy to make! Without meat, it takes a short 30 minutes to make this entire meal. With meat, it's still under an hour.
This stew can be eaten over rice, but my family loves it over pasta or spaghetti. If you prefer rice, see my recipe here. Add a side of olives and pickles to complete the meal!
Click here to learn how to make this quick and delicious Creamy Mushroom Stew recipe on my YouTube Channel and be sure to SUBSCRIBE for more recipes!
The ingredients are simple and the meat is optional! My seven spices recipe can be found here.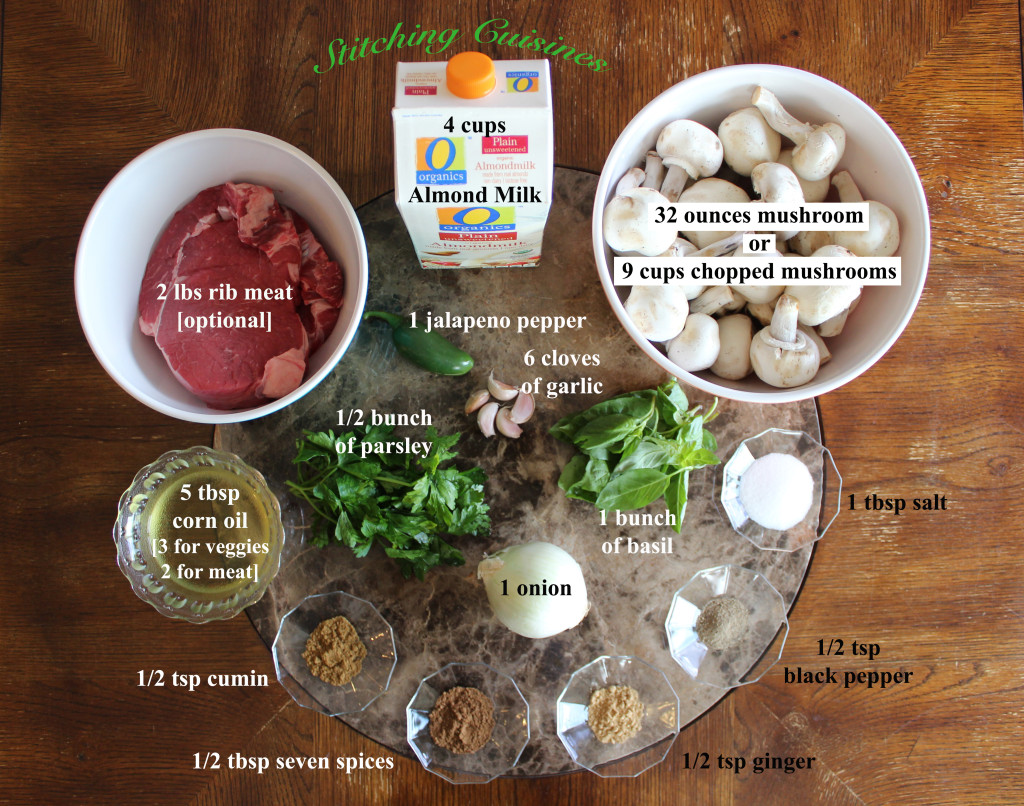 A delicious vegan/vegetarian meal!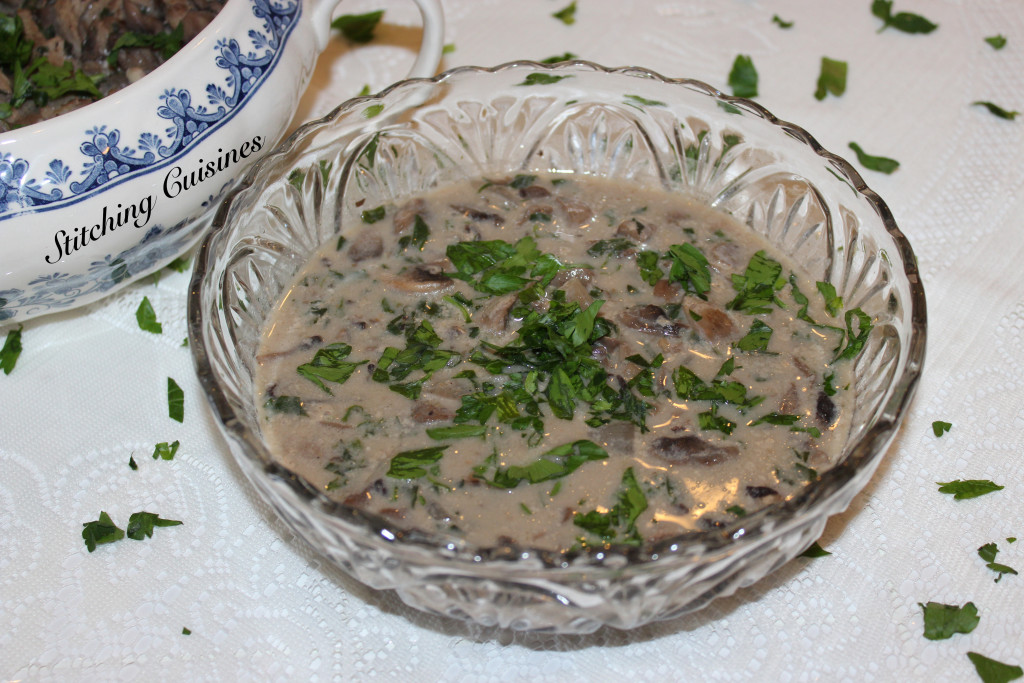 Or add meat for beef lovers!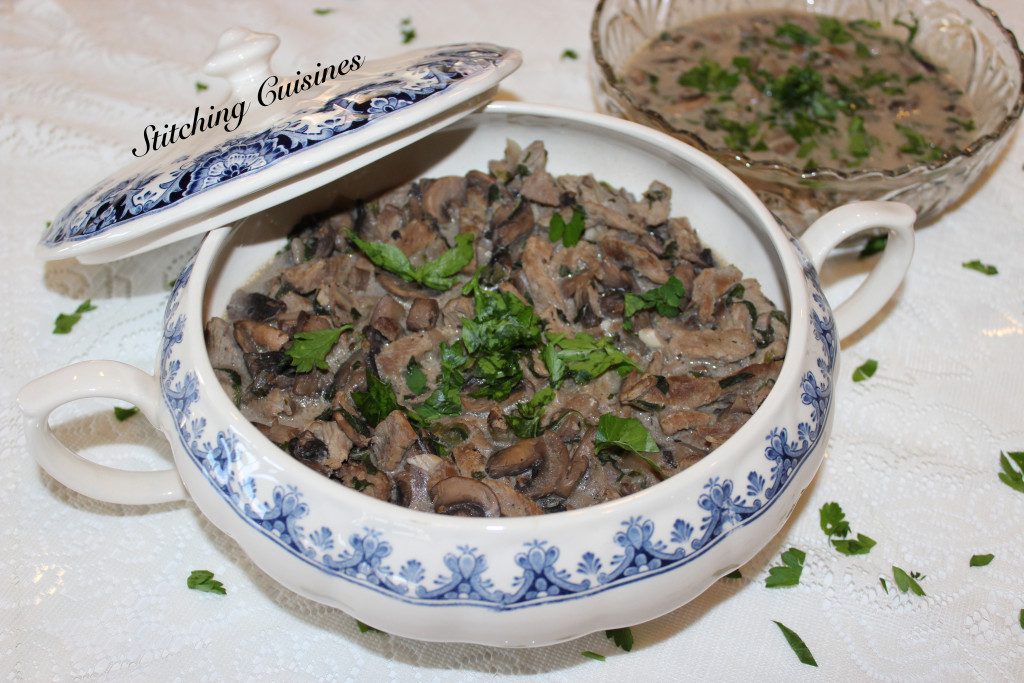 A delicious meal for all!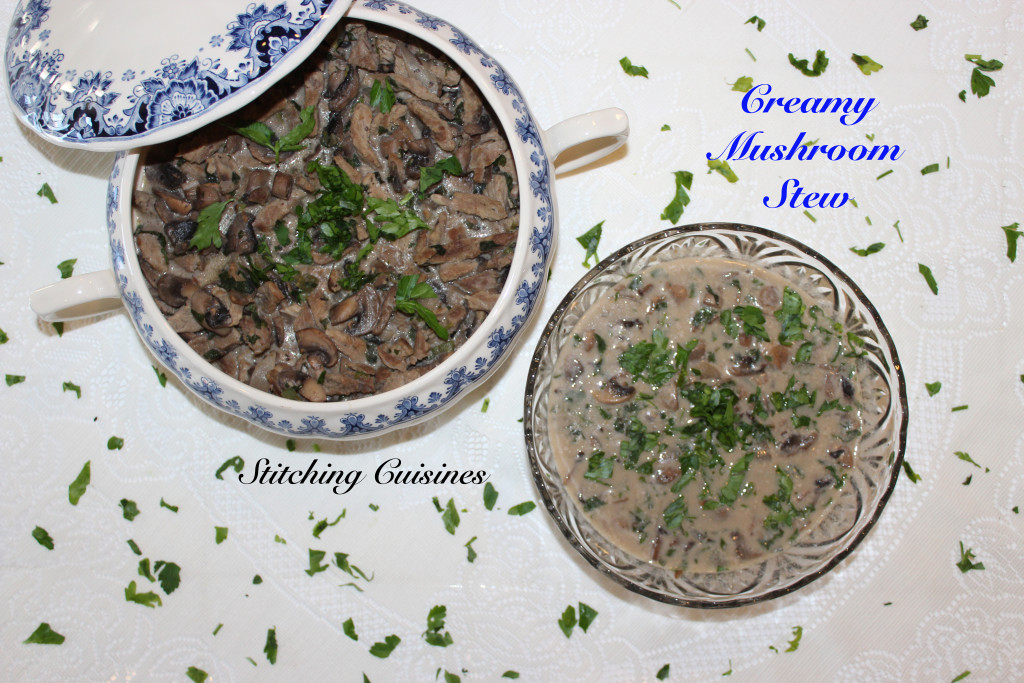 Sahtein! Enjoy!
Creamy Mushroom Stew [GF; VO]
2015-11-02 17:07:11
Serves 6
Creamy mushroom stew with a nutty kick and basil filled aroma. The perfect 30-min meal for any winter night.
Ingredients
32 oz or 9 cups chopped mushrooms
1 onion, chopped
6 cloves of garlic, chopped
1 bunch of basil, chopped
½ bunch of parsley, chopped
1 jalapeno pepper, chopped
4 cups of original unsweetened Almond milk*
1tbsp salt
½ tbsp 7 spices
½ tsp cumin
½ tsp ginger
½ tsp black pepper
5 tbsp of oil**
2 pound rib beef meat (OPTIONAL) ***
¼ cup vinegar ****
Preparation for vegan/vegetarian stew
On high heat, place 3 tbsp of oil in a large non-stick pan.
Add chopped onion and sauté for 2 minutes, add chopped garlic and sauté for 1 minute, then add the chopped jalapeno pepper and sauté for another 5 minutes.
Lower the heat to medium and add the mushrooms and sauté the entire mix of ingredients for 15 minutes.
Add the salt, 7 spices, cumin, ginger, and black pepper.
Pour 4 cups of Almond milk* into the mix and allow it to boil.
Add the basil, stir, and turn off the heat.
Leave it to set for 5 minutes, then serve.
Garnish with parsley.
Preparation for the meal with meat***
Cut the meat into strips.
Soak them in vinegar and water for 30 minutes to clean the meat.
Drain the liquid and wash the meat.
Boil the meat in water until all the fat rises to the top of the pot and then drain the water and wash the meat.
On a high heat, place 2 tbsp of oil in a pot.
Add the meat and stir for 5 minutes. Turn heat down to low and stir every few minutes to make sure the meat doesn't stick.
Keep the meat on the stove until it is well done, takes about 20 minutes.
Add meat to the creamy mushroom mix.
Leave it to sit for 5 minutes and then serve.
Garnish with parsley.
Notes
* You may substitute with any other non-dairy milk if you don't prefer almond milk or if you're allergic to nuts
** 3 tbsp of oil for sautéing mushroom, onion, and garlic; 2 tbsp of oil for cooking the meat
*** Meat is optional. Without meat, the meal takes 30 minutes to make. Adding meat will add another 30 minutes.
**** To clean the meat if you choose to add meat to the dish.
Tatreez: Stitching Cuisines https://stitchingcuisines.com/