Savory stuffed eggplant with a creamy red sauce. My mouth is watering just thinking about it!
My first time tasting Sheikh al Mah'shee is a fond memory for me. I was in middle school at the time, and my friend Maha had invited me to her house for lunch, after a long day at school. In the Middle East, lunch is the main meal of the day. Being invited to lunch is the equivalent of being invited over for dinner. Maha told me that her mother was making one of her favorite meals, Sheikh al Mah'shee. I immediately laughed because the literal meaning of Sheikh al Mah'shee is "the king of stuffed food." I had never tried the meal before, so it made me curious as to what the meal looked and tasted like. The moment I tasted the dish, I was eager to know what ingredients and steps I needed to make the meal myself. I went home afterwards and told my mother about the new dish I tried and asked her to make it for us as soon as possible. My mother made Sheikh al Mah'shee later that month, and taught me all the steps needed to perfect the meal. I had Sheikh al Mah'shee for the first time in my life at Maha's house, and I haven't forgotten the meal since that day.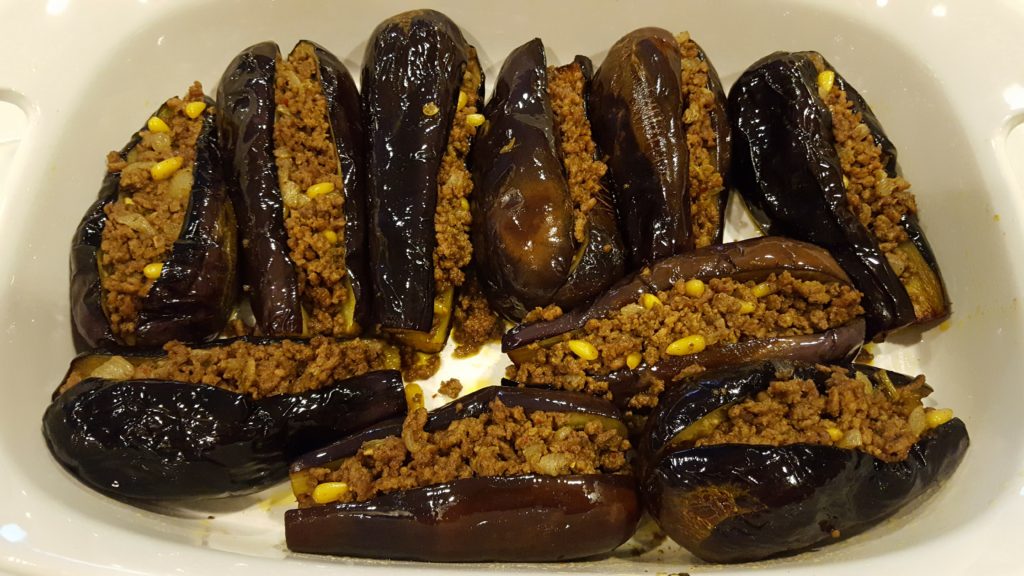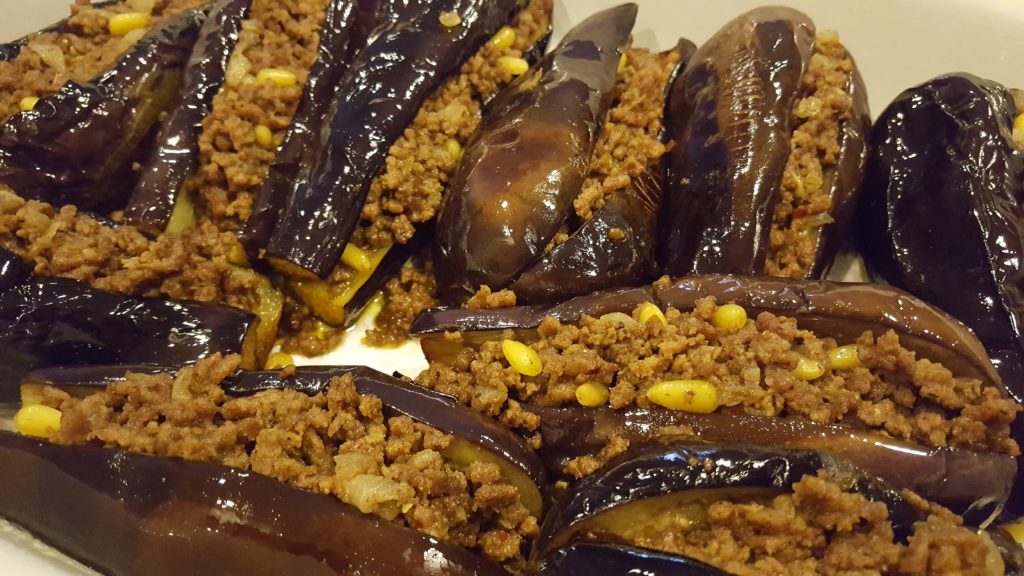 My seven spices recipe can be found here.
You can find my rice recipe by clicking here.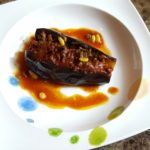 Eggplant Stuffed with Meat & Pine Nuts (Sheikh al Mah'shee)
2016-10-19 04:27:52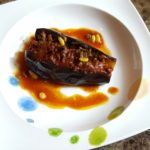 Serves 5
Savory stuffed eggplant with a creamy red sauce you're sure to love!
Ingredients
10 medium size Italian eggplants
1lb (454 grams) ground beef
2 tbsp corn oil
1 yellow onion
1 tsp salt
½ tsp 7 spices*
½ tsp shatá (red pepper hot sauce)
½ tsp garlic powder
¼ cup corn oil (for searing the eggplant)
A handful of pine nuts
Sauce
½ cup water
2 tbsp tomato paste
2 tbsp organic ketchup
2 tbsp lemon juice
Pinch of salt
Pinch of 7 spices*
Prep
Thoroughly wash and dry eggplant. Remove the stem from each eggplant and make a slit down the middle.
Rinse the ground beef in a sieve and let it sit until all the water drains.
Chop the onion.
Filling
Place 2 tbsp of corn oil in a pot on high heat. Once the oil begins to heat up, add the chopped onion and ground beef to the pot. Add in the salt, garlic, 7 spices, and shatá (red hot pepper sauce). Stir every few minutes until fully cooked. Once fully cooked, add in the pine nuts, stir, and turn off heat.
Eggplant
Place ¼ cup corn oil in a pot on high heat. Allow oil to heat up, then lightly sear each eggplant for a few seconds. Remove each eggplant, and place in a colander to drain any excess oil. Leave eggplant to cool.
Once cooled, stuff eggplant with meat mixture, and place in a glass baking dish.
Preheat oven to 400˚F.
Sauce
Over high heat, combine all the tomato sauce ingredients and continue stirring until the tomato paste melts. Cook for 15 minutes.
Remove the sauce from the stove and pour over the stuffed eggplants in the baking dish. Place the baking dish in the oven for 20 minutes.
Remove dish from the oven, and serve with rice or bread.
Enjoy! ☺
Notes
*Seven spices can be purchased at any Middle Eastern market. If you would like to make the spice mix yourself, the recipe is on my blog: http://stitchingcuisines.com/the-seven-spices/
Tatreez: Stitching Cuisines http://stitchingcuisines.com/