Spiced chicken topped with sautéed onions. Plate this over stone baked bread and you have a marvelous, authentic Palestinian meal!
Once upon a time, my father came home from work carrying 15 chickens and asked my mother to make Musakhan for the next day. My mother surprisingly asked him why he needed all of these chickens for her to make Musakhan for our family of nine. He answered her that he promised all of his coworkers to bring them a dish that only the people of Palestine know and make. So, my mother set to work cooking all the day the largest Musakhan for my father's coworkers.
Every time my mother makes Musakhan she remembers this story. Musakhan is one of my favorite meals and I am blessed that we live in an age where I can make it any time of the year. Musahan is traditionally made in the month of October. This is because October is the month of picking olives and pressing them to produce oil. Palestinians makes Musakhan especially in October because the oil is pure and fresh. My mother used to tell me that when she was growing up, every morning, the neighbors usually asked each other about what they were having for lunch that day. In the Middle East, lunch is the larger meal for the day, while dinner is a smaller course. In October, Musakhan was always on the menu.
While olive and Musakhan season being in October is still relevant in Palestine today, I cook Musakhan for my family and friends not only in October but all year long. I've been making this dish for years, trying to perfect my mother's Musakhan. It may never taste exactly like the delicious dish that my mother makes, but practice leads to perfection.
Learn how to make this delicious meal by watching my recipe video on my YouTube Channel.
Subscribe to my YouTube Channel for more recipes!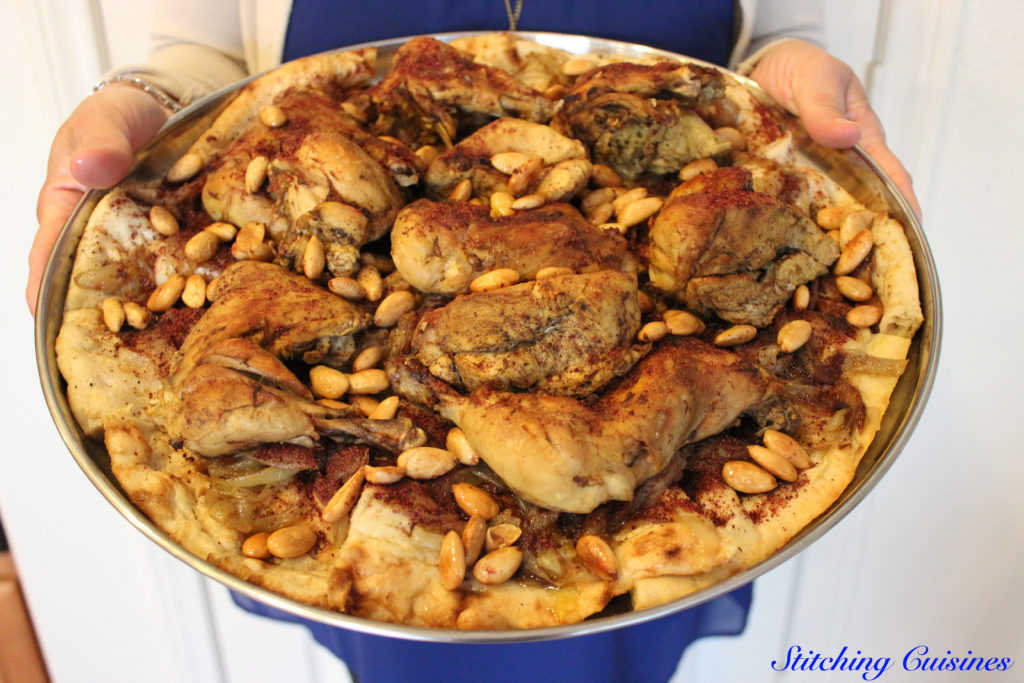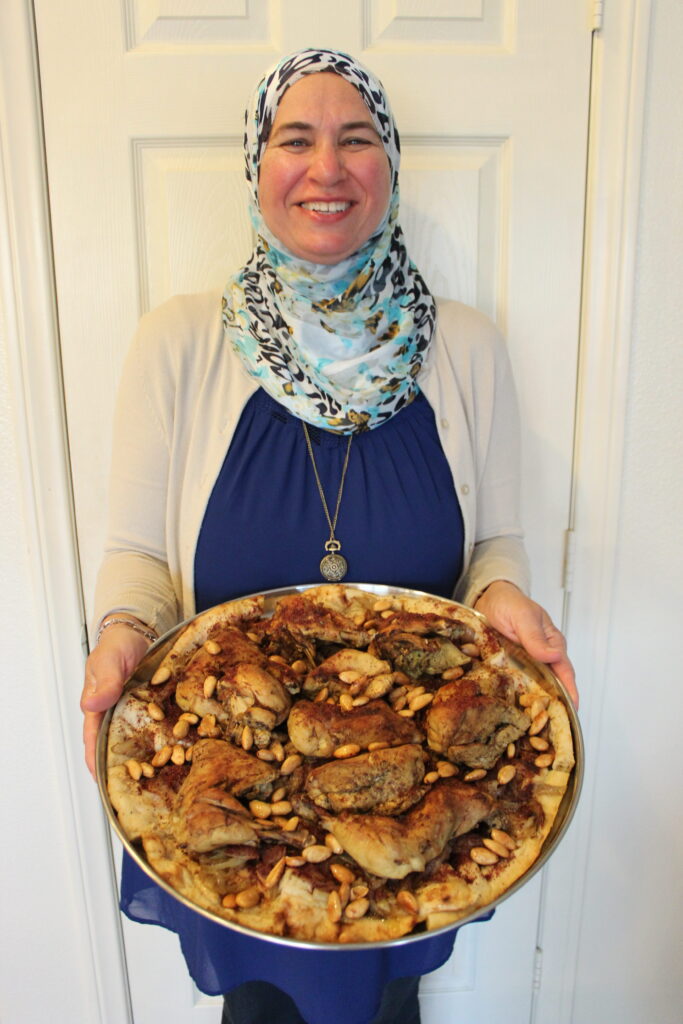 SAHTEIN! ENJOY!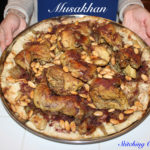 Musakhan
2016-06-25 18:29:54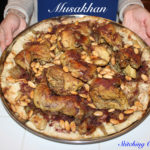 Spiced chicken topped with sautéed onions. Plate this over stone baked bread and you have a marvelous, authentic Palestinian meal!
Ingredients
2 big round Tanour bread*
2 chickens
4 onions
1 tsp 7 spices
1 tsp salt
1 tsp black pepper
1 tsp cardamom
½ tsp cinnamon
½ tsp safflower
¼ tsp cloves
¼ tsp nutmeg
¼ cup sumac
½ tsp cumin for the onions
1 head of garlic
1 lemon
½ cup olive oil with onions
1/3 cup corn oil with onions
1/3 cup corn oil with the chicken
¼ cup almonds
Cooking
Cut the chicken into 4 pieces each
Soak chicken in water with salt & vinegar for about 30min
Wash chicken and drain
Peel the garlic and mash them
Mix all the spices together
Coat each piece of chicken with the mashed garlic
Coat each piece of chicken with the spices mix
Squeeze the lemon over the chicken
Put the rest of spices on the side
Peel the onions and slice them
Put ½ cup of olive oil with 1/3 cup of corn oil in a pot
Add 3 onions and sauté them
Add the ½ tsp of cumin with the rest of spices over the onions
Cook the onions until they are lightly golden or browned
In another pot, put 1/3 cup of corn oil and add the chicken
Cook the chicken until it is well done
Place the chicken in an oven tray and broil them until they are golden red
Plating the dish
Cut the Tanour bread into 8 slices each
Dip each piece of bread into the chicken broth and then place on a round tray
Drizzle each piece of bread with the sautéed onions
Sprinkle sumac over it
Add the chicken over the bread
Garnish with sumac and toasted almonds
Notes
* The traditional way to make this meal is with stone baked bread, but you may also use pita bread if this is your only option.
Tatreez: Stitching Cuisines https://stitchingcuisines.com/