Cooling and savory dip or side for any meal!
Quick and easy, 6-ingredient recipe.
Whenever I buy fresh Persian cucumber I love to make the Persian cucumber with yogurt and dry mint salad. Drizzle with olive oil and eat it with pita bread.
My daughter likes to have it with tortilla chips. My other daughter likes to add it to her sandwich, while my husband likes to eat it straight with a spoon.
Click here to watch the video on my YouTube Channel and be sure to SUBSCRIBE for more recipes!
Sahtein! Enjoy!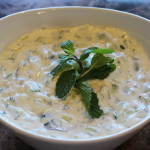 Persian Cucumber & Yogurt Salad
2015-12-08 03:20:56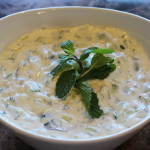 Cooling and savory dip or side for any meal!
Ingredients
2 large cucumbers, finely chopped
1 clove of garlic, smashed
1 cup of yogurt*
1tbs kefir cheese**
1tsp salt
1 tbsp dry mint
Fresh mint to garnish
Instructions
In a bowl, add garlic, yogurt*, and kefir cheese**. Mix well.
Add cucumber. Fold in.
Add salt. Mix. Add dry mint. Mix.
Garnish with fresh green mint.
Serve and enjoy.
Notes
*Use soy yogurt as a dairy free replacement.
**Can omit for dairy free or use dairy free kefir substitute.
Tatreez: Stitching Cuisines http://stitchingcuisines.com/