Mansaf, the meal of celebrations.
My personal Mansaf recipe, a mix of meat and cauliflower cooked in yogurt and plated over stone baked bread.
I still remember that my mother would begin preparing very early in the morning when she was going to make Mansaf. My mother always prepared Mansaf when we were going to have a guest visiting from overseas, coming over to have lunch with us. Lunch is the most important meal in the Middle East; it is larger than dinner. Mansaf is a very important meal in Palestine. I was so young when I first knew that Mansaf is served in Palestine in special occasions and in times of celebration, weddings, and to honor special guests. My uncle living in Palestine used to send us the yogurt from Palestine to Kuwait. The yogurt was handmade and prepared fresh into round white balls and dried to ship.
The first thing my mother would start with was preparing the yogurt. Unlike the much simpler way you will learn to make the yogurt in my recipe, my mother would first take a big round bowl. She would place 2 to 3 yogurt balls and add warm water and then begin stirring. She kept stirring the yogurt until they completely dissolved. The smell of roasted garlic that my mother used to pour over the yogurt is a delicious smell that I will always remember. My mother's Mansaf is delicious to this day.
The Palestinian Mansaf is traditionally made with lamb meat without any additions. However, because my daughters do not eat lamb, I started adding chicken to my Mansaf, and specifically chicken breast. I also learned from my mother to add cauliflower to the Mansaf. This was perfect because my family loves cauliflower. I hope you enjoy the special way in which I make my Mansaf!
Learn how to make this delicious meal by watching my recipe video on my YouTube Channel.
Subscribe to my YouTube Channel for more recipes!
Delicious aerial view!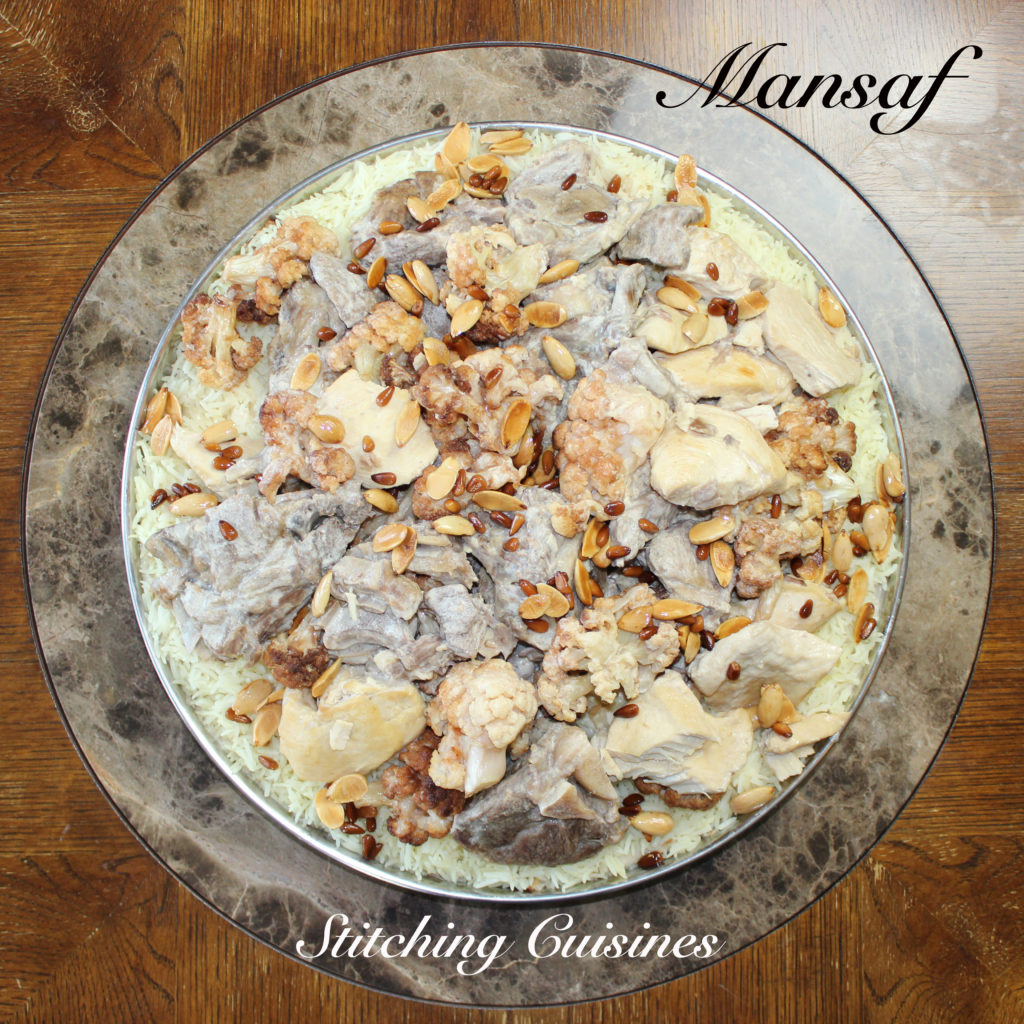 SAHTEIN! ENJOY!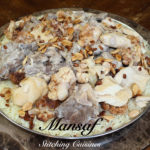 Mansaf
2016-09-14 23:31:59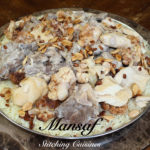 Mansaf, the meal of celebrations.
Ingredients
Lamb meat
Chicken breast
2 lbs yogurt
17 oz yogurt soup starter (soup base)
1 onion
3 cloves garlic
1 tsp cornstarch
1 tsp lemon juice
1 tsp sugar
2 medium cauliflowers
2 ½ cups of rice
1 Tanour bread
4 tbsp vinegar
1 ½ cup corn oil (to fry cauliflower)
4 tbsp of corn oil (to fry chicken)
4 tbsp corn oil (to roast garlic)
Almonds and pine nuts for garnishing
Lamb meat preparation
Soak lamb meat in vinegar and salt for 30 minutes
Wash the meat and place in a pot with water
Leave the lamb meat until it boils
Drain water and wash lamb meat again
Place the lamb meat in a pot and cover it with water
Add the onion, lemon juice, and sugar
Cook the lamb meat until it is medium rare
Chicken preparation
Cut chicken into medium size slices
Soak the chicken in vinegar and salt for 30 minutes
Heat corn oil in a pot and sear the chicken lightly
Sear the chicken pieces on both sides until they reach a pink color
Add the chicken to the pot of lamb meat
Cauliflower preparation
Cut into medium pieces
Fill a pot with water and vinegar and allow to boil
Add the cauliflower to the boiling water and leave it for 5 minutes
Drain the hot water and wash cauliflower with cold water
Heat the corn oil and fry the cauliflower until it reached a golden brown
Yogurt preparation
In a blender, mix both kinds of yogurt with cornstarch very well
Place a pot with the yogurt on the stove on high heat
Keep stirring with a whisk until it boils; don't stop stirring or the yogurt will turn flat
Boil the yogurt for another 10 minutes
Remove the onion from the pot of lamb and chicken
Pour yogurt over meat and chicken
Leave the pot of yogurt with the meat and chicken to cook until they are well done, or for about 15 minutes
Do not cover the pot or the yogurt will spill over when boiling
Roast garlic and pour over the yogurt
Leave the mixture to boil for a few minutes
Add the fried cauliflower to the yogurt and leave to boil for a couple of minutes
Roast almonds and pine nuts
Plating the Mansaf
Cut bread into small pieces and cover the bottom of a round pan
Soak the bread with yogurt
Cover the bread with rice
Cover rice with meat, chicken, and cauliflower
Pour yogurt over everything
Garnish with almonds and pine nuts
Tatreez: Stitching Cuisines http://stitchingcuisines.com/