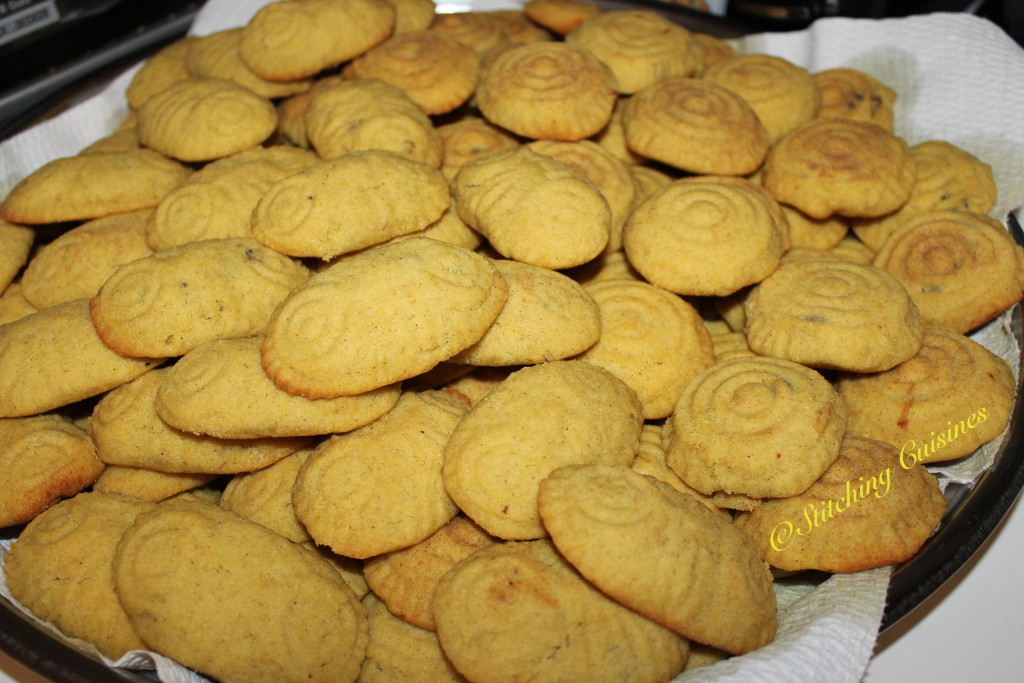 That sweet smells of cinnamon, dates, and walnuts dance through the house filling my heart with joy. It means Eid is around the corner! Mamoul, or Ka'ack il Eid, are specially made during the holiday season. While I bake all kinds of desserts on my own, this is the only dessert that I stick to the tradition of asking my mother to come help me bake. The baking happens in the morning and usually goes through the afternoon, despite my efforts to have all the ingredients and dough prepared the night before. My mother arrives and my daughters find a way to leave their beds just so they can crowd around her as she teaches them how to bake this timeless family recipe… But mostly, they're more excited for the stories she shares while we bake. I have always been blessed with living in the same city as my mother, and close enough for her to drop by at any time. Having her near me and my children during the holiday season is the best Eid gift I could ever ask for.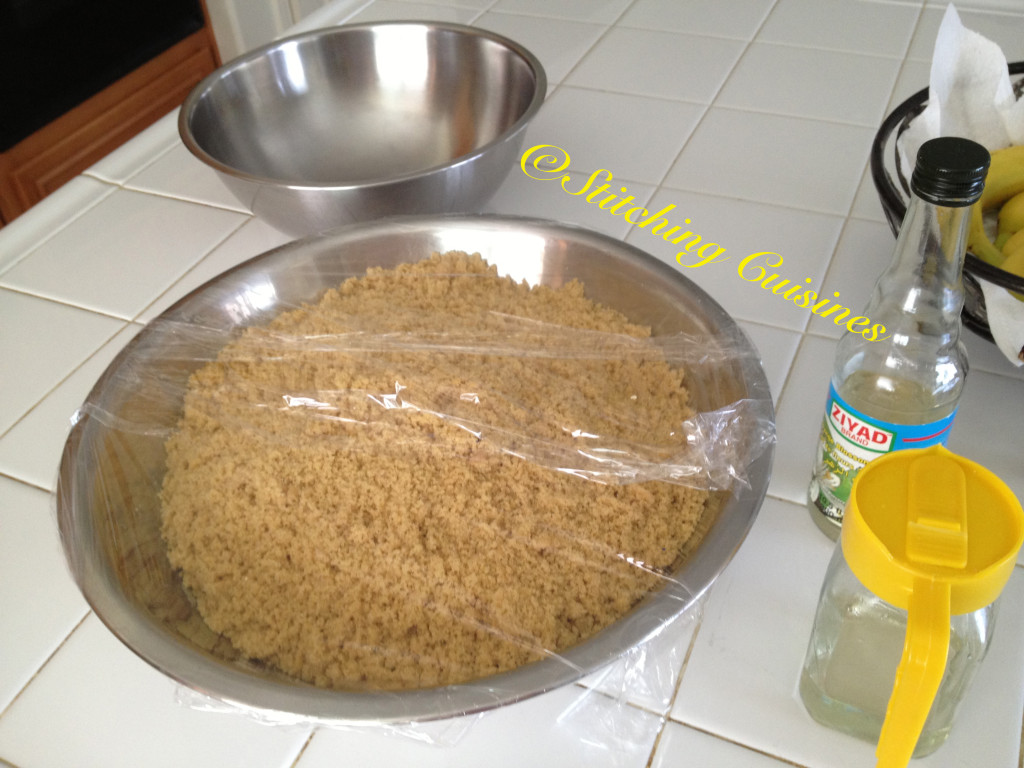 I always feel excited the day before baking Mamoul. I take great care in preparing the ingredients and the dough. Seeing all the ingredients come together and that beginning of those delicious smells gets my children excited too. Once Eid is near, they know to expect Eid cookies.
Every time I make Mamoul, I make very large batches. I make both date filled and walnut filled cookies. I love dates, but I love all kinds of nuts more. I absolutely love the crunchy yet smooth taste of walnuts and cinnamon wrapped in the slightly crumbly outer cookie crust. My husband is a lover of both. But, my children have always leaned towards the date filled ones.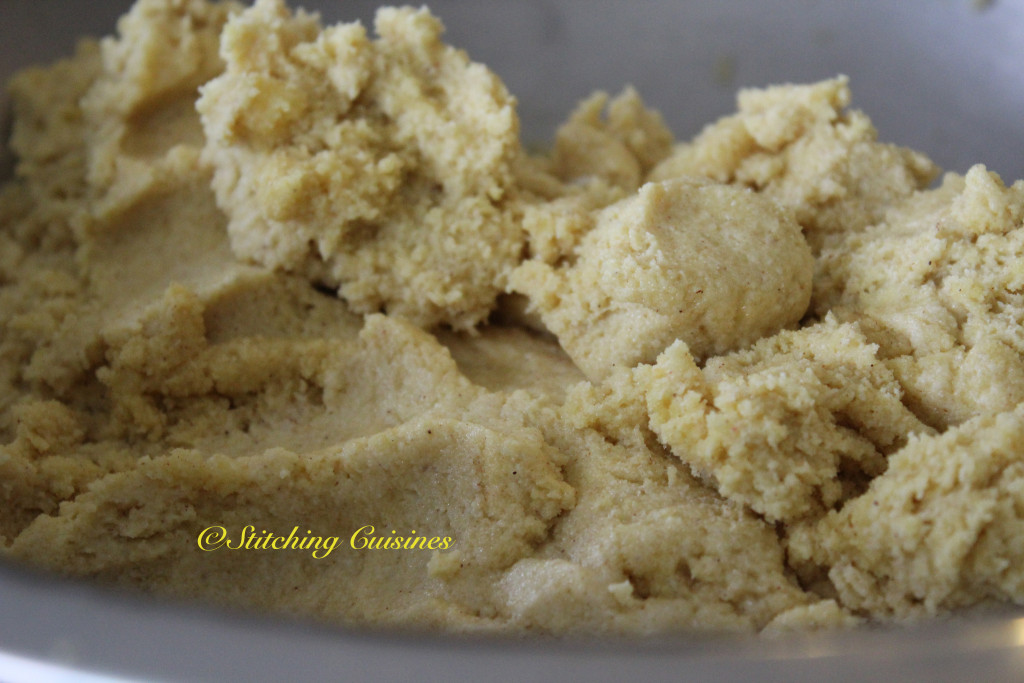 The buttery smooth texture of the dough means it's ready for filling!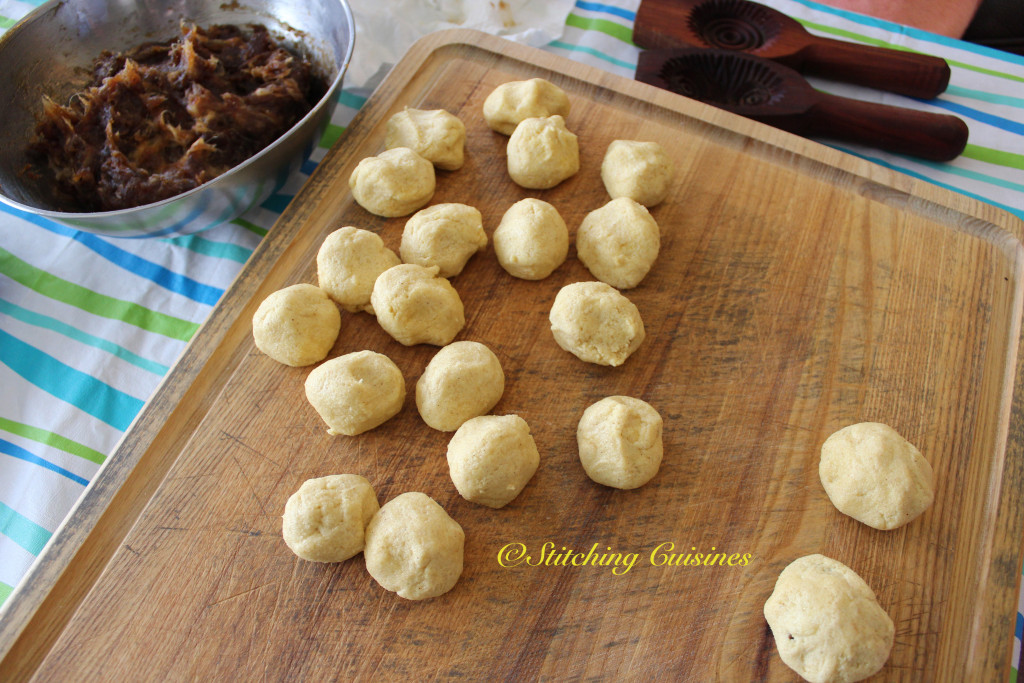 With my mother, she always prefers that my daughters take care of the more simple tasks while she and I fill the cookies, close them up, and shape them.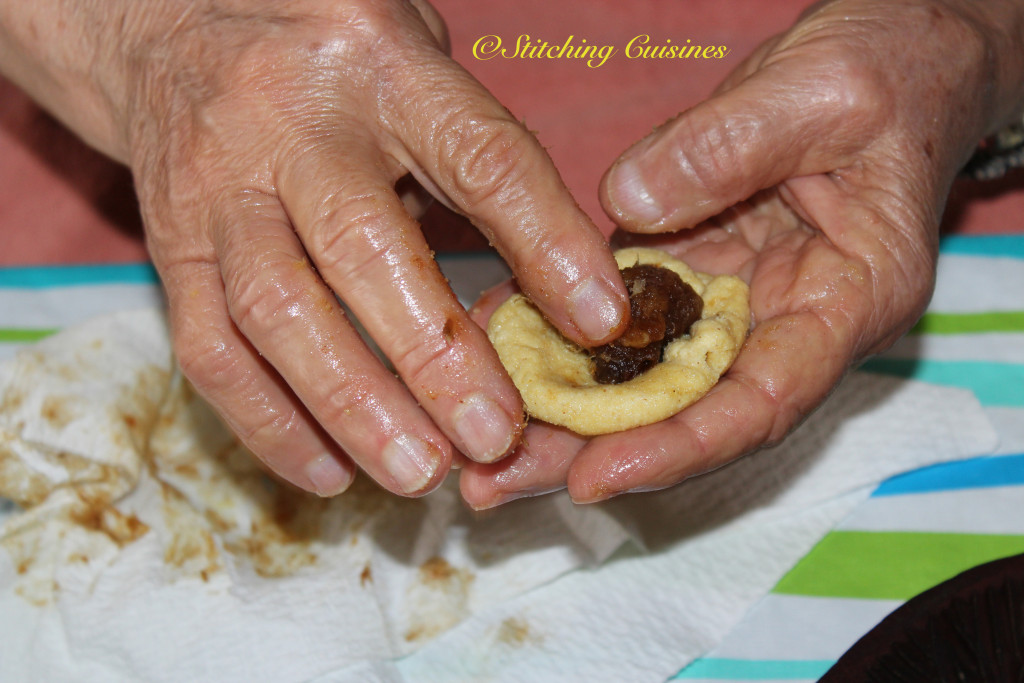 No matter how many times I watch my mother make Mamoul, there's always a more distinct skill to her form. To her, it's effortless.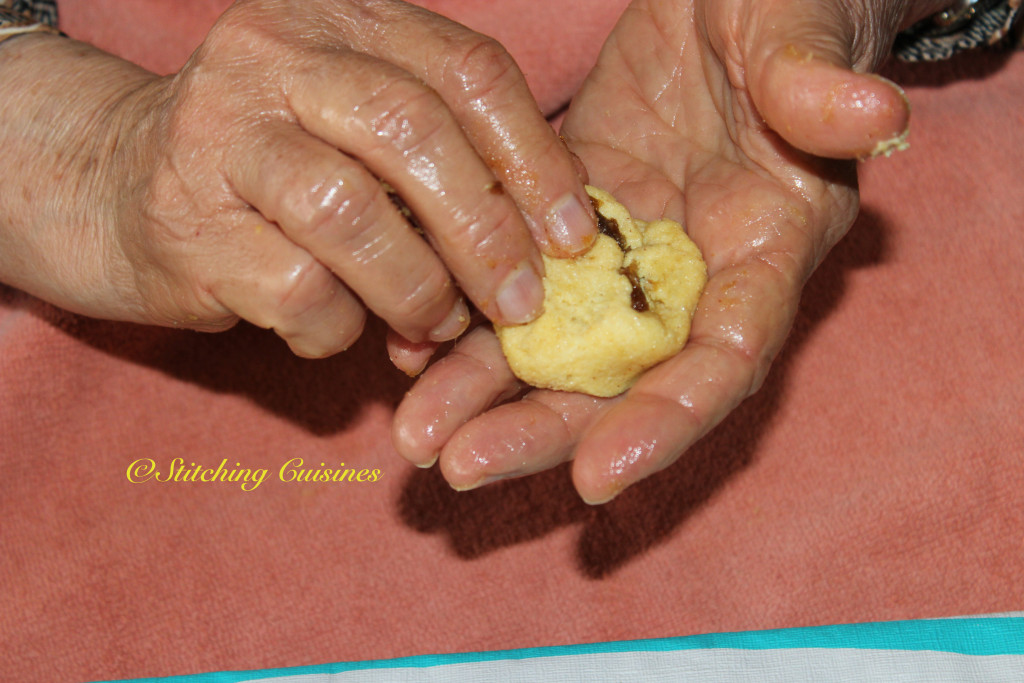 The skill is to make sure that the filling is concealed inside the dough like a secret.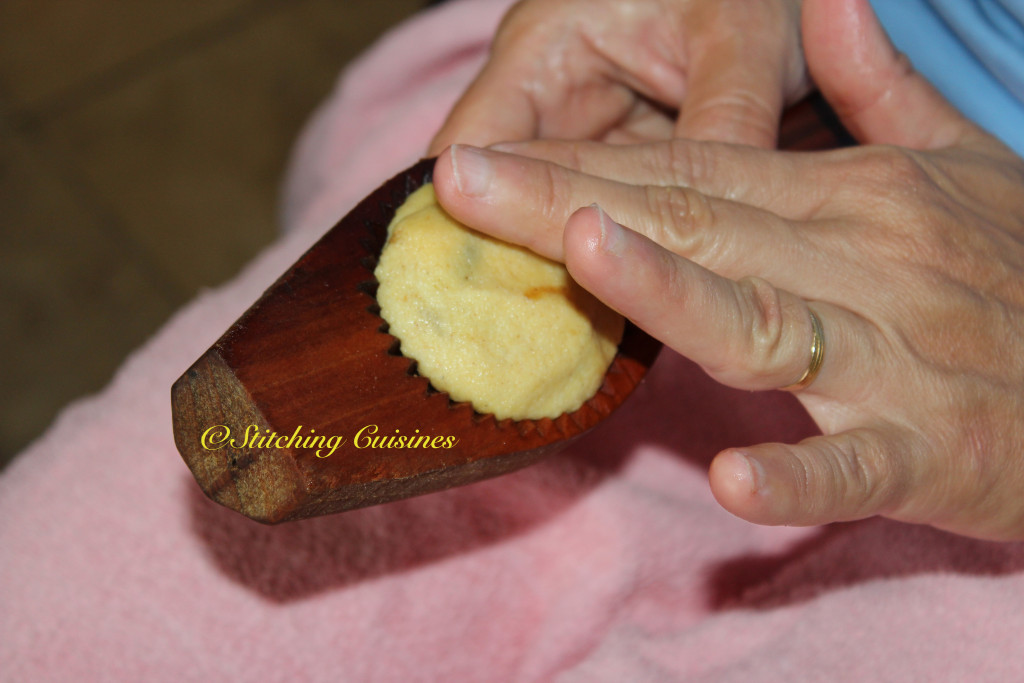 Variations of these molds can be found in any Middle Eastern store. A few years ago, my eldest daughter visited my homeland of Palestine and brought back fun shapes. Last year, I made hearts for my children.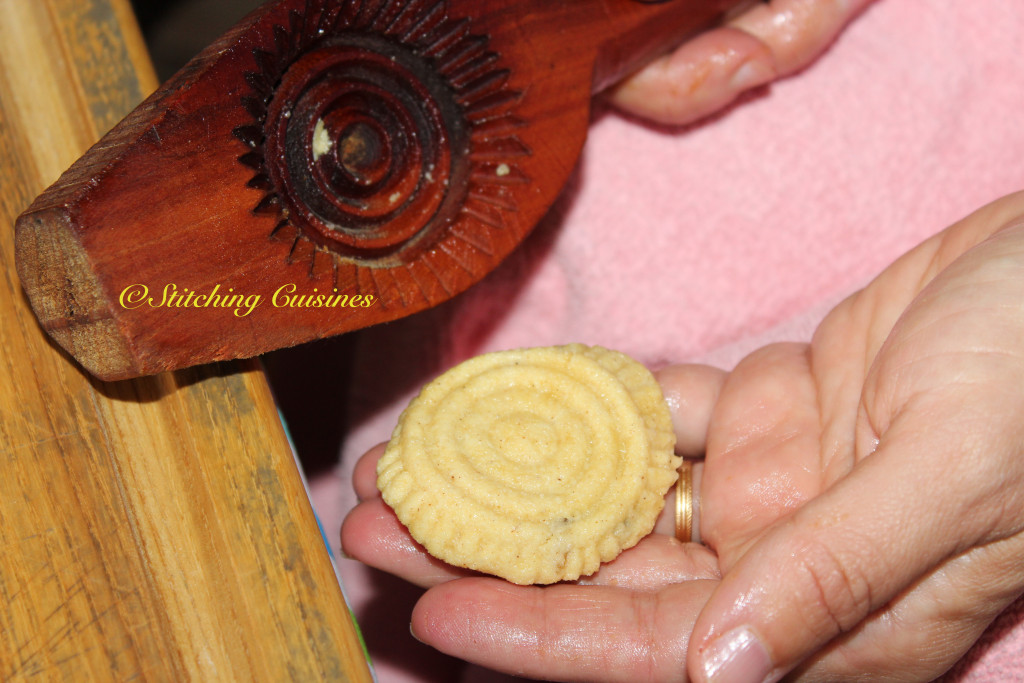 The round shaped designs have always meant that they hold dates.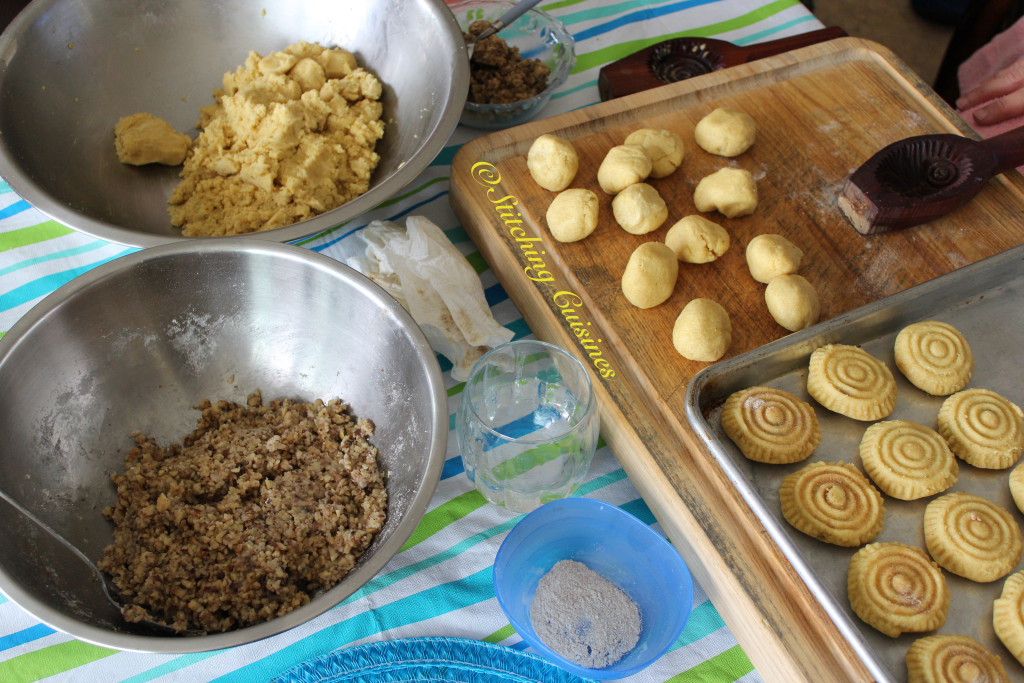 I'm always more excited when I can begin filling the dough with walnuts! I was getting worried this time around. It looked like there was a larger amount of date filling and my mother wanted to finish it all. I was so worried that there would be less for the walnut filling. Thankfully, our measurements were just right and we were able to make a large walnut filled batch.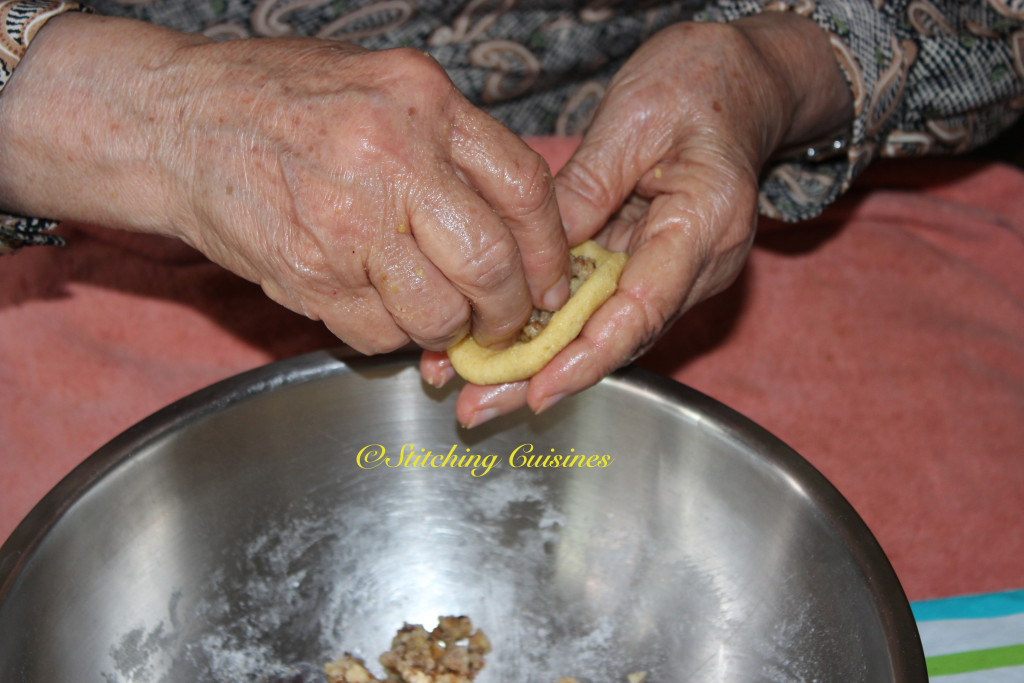 Working with the walnut filling is slightly less messy.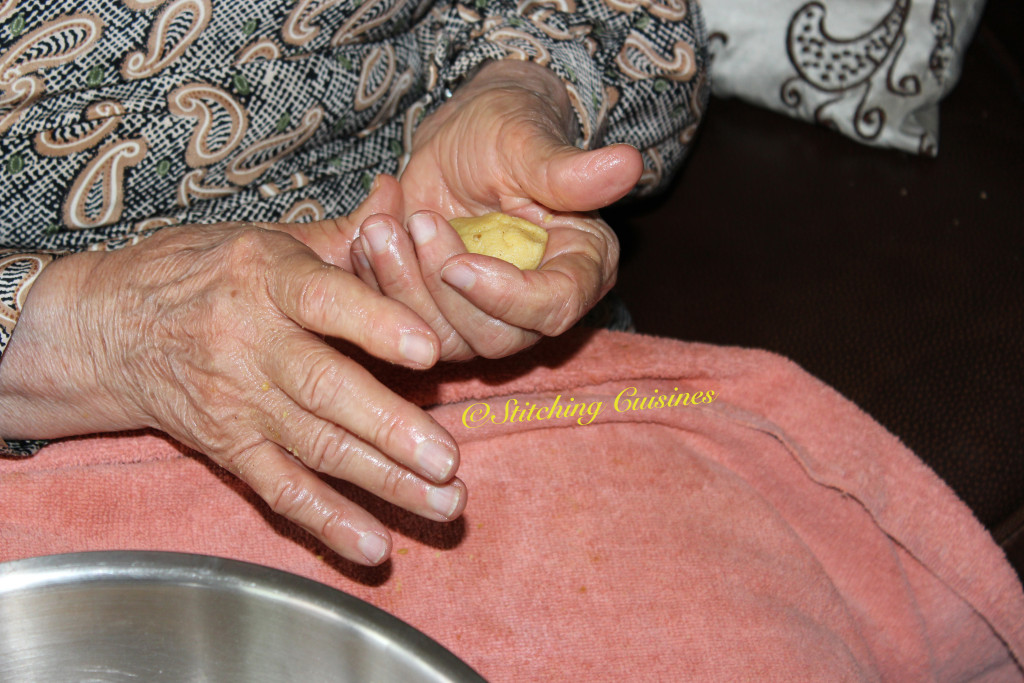 My mother taught me to always shape the dough in preparation for the shape of the mold. While she made balls out of the date filled dough, she made the walnut shaped dough into ovals.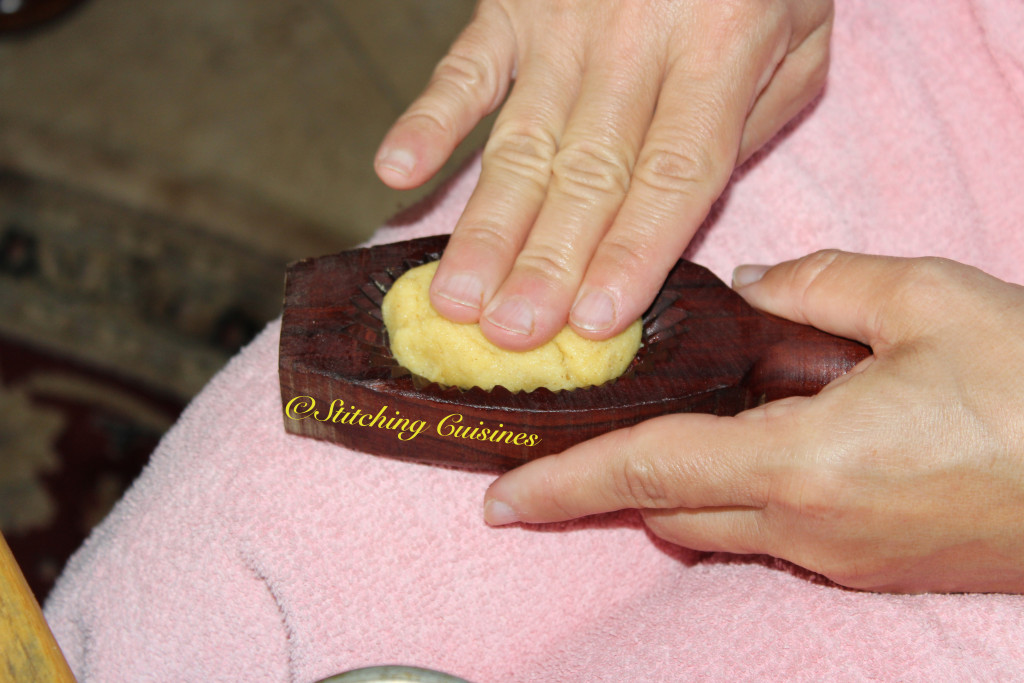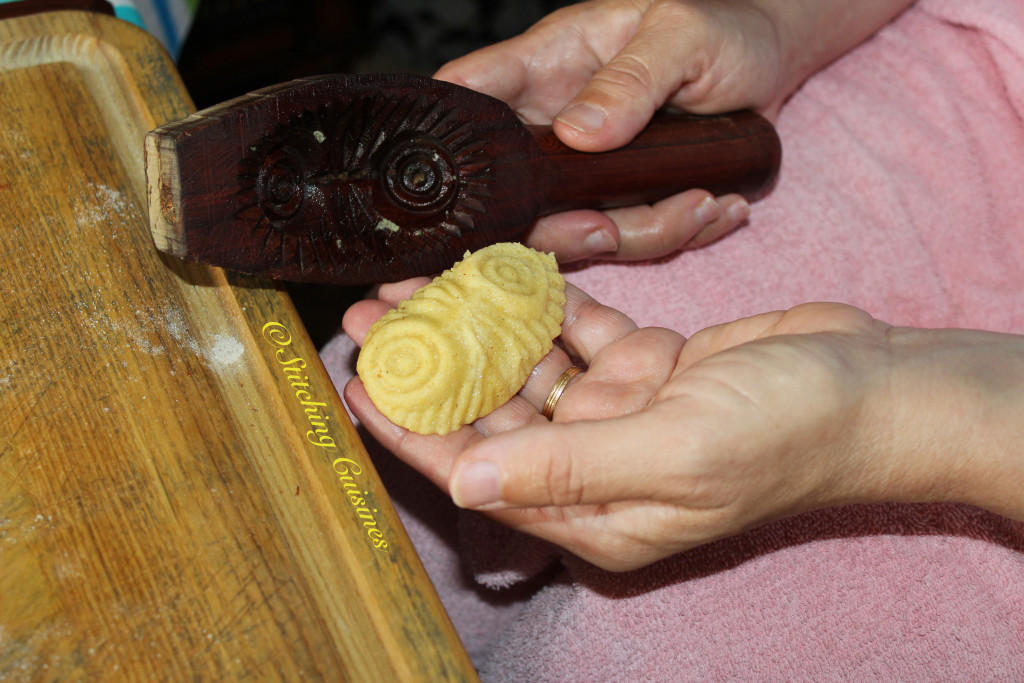 The oval shaped designs have always meant that they hold walnuts.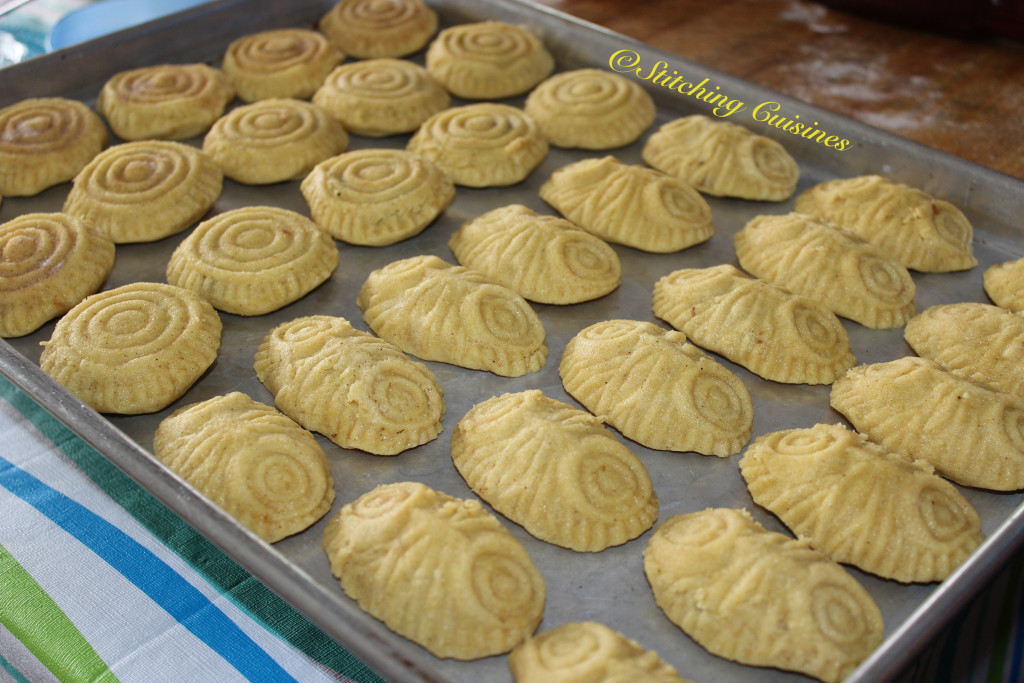 They're ready for baking!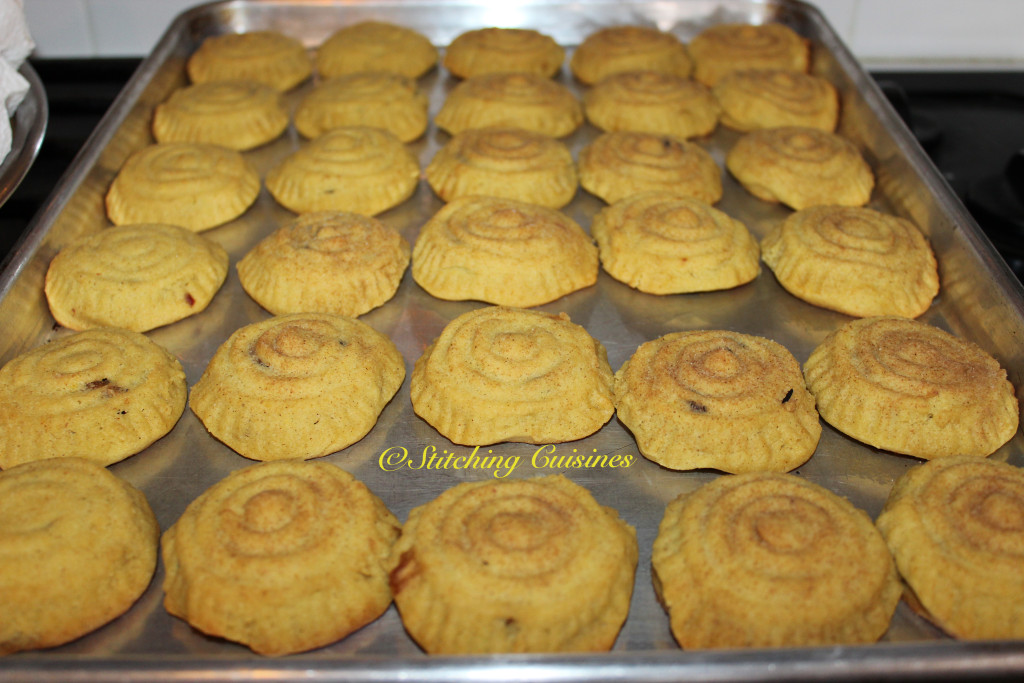 Aren't they glowing!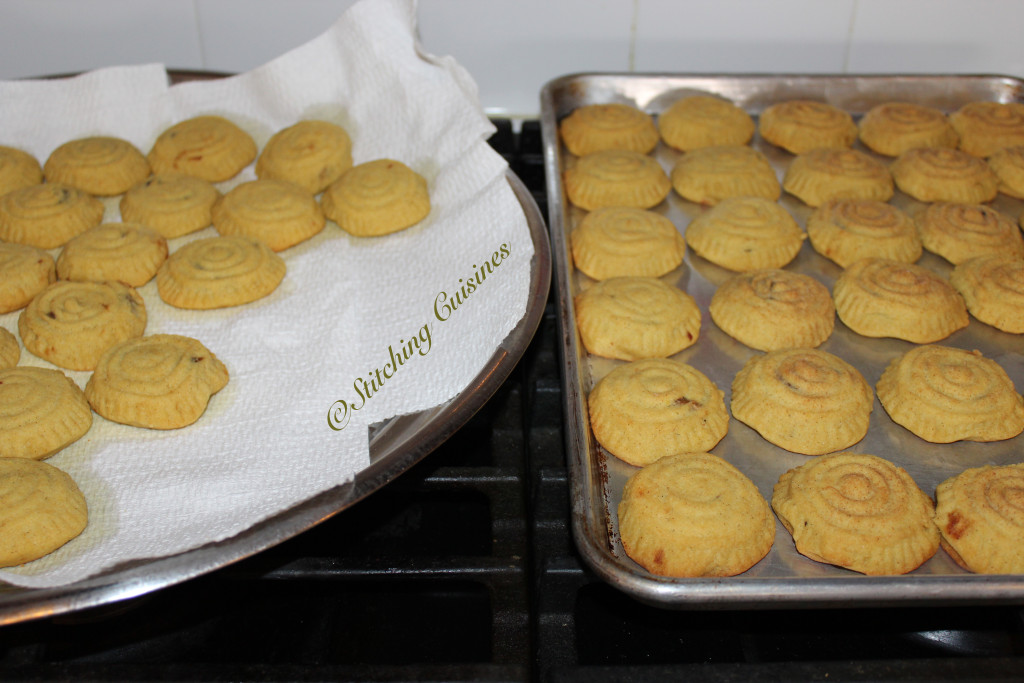 While moving cookies to the cooling tray, my children are always quick to argue who gets the first cookie… I always beat them to it! I am the baker after all.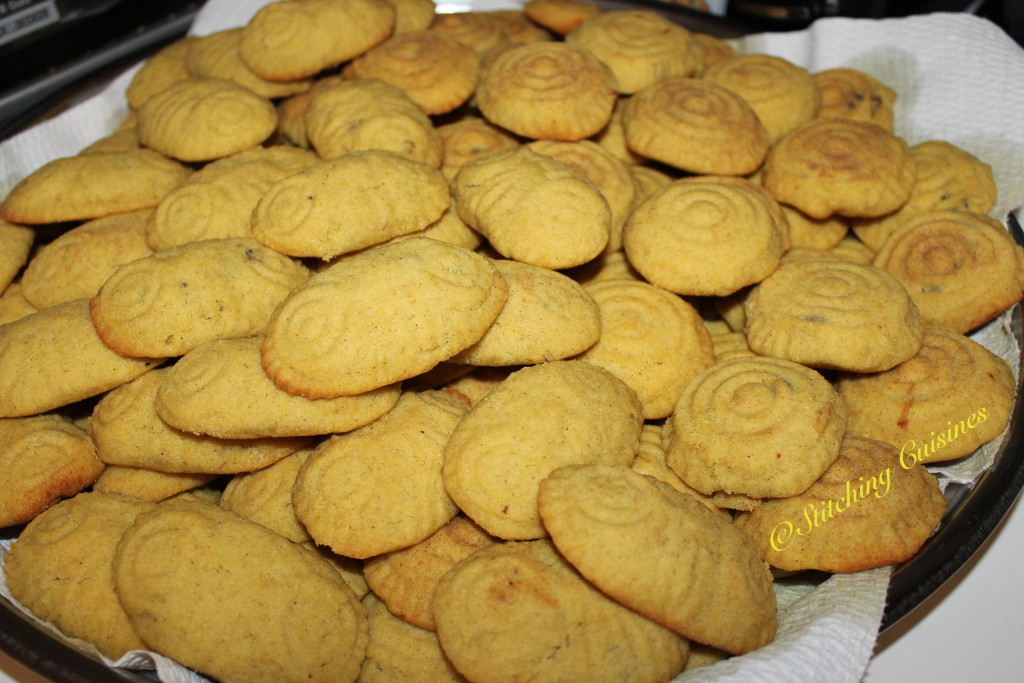 Sahtein!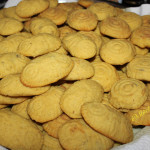 Mamoul (Eid Cookies)
2015-09-23 04:48:16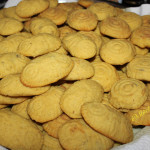 Serves 30
Mamoul Eid Cookies with Dates or Walnuts (Ka'ack bi ajwa or Ka'ack bi jouze). That sweet smells of cinnamon, dates, and walnuts dance through the house means Eid is near!
Dough
6 cups of semolina
1 cup of unsalted butter*
1 tbsp of cinnamon
Dash of turmeric
Yeast mixture (1tsp dry yeast, 1 tsp sugar, ¼ cup of water)
Milk (3 tbsp Nido milk powder & ½ cup water)**
¼ cup rose water
Date Mix
2 cups pitted dates
1 tbsp cinnamon
3 tbsp olive oil
Walnut Mix
3 cups walnut
1 cup powdered sugar
¼ cup orange blossom water
Instructions
Knead the semolina, butter, cinnamon, and turmeric. You can use a stand up mixer to make the process easier as long as the ingredients are all thoroughly incorporated. This process is done at least a day in advance so that the semolina can absorb the butter. The mixture starts out crumbly, but will mold into a softer, malleable dough once the rest of the ingredients are added.
After ensuring that the ingredients are very well incorporated, cover with plastic wrap and allow it to sit overnight.
The following day
For date mixture, Pit 2 cups of dates and add the 1 tbsp cinnamon + 1 tbsp olive oil. Break down and combine the mix very well. This process can be done by hand or using a food processor.
For walnut mixture, pulse walnuts in food processor until they are broken down, but still have a crunch. Add sugar, orange blossom, and mix very well. Make sure the walnuts are thoroughly coated with the sugar & water.
In a bowl, create the yeast mixture by dissolving 1tsp dry yeast + 1tsp sugar in ¼ cup water.
In a separate bowl, dissolve 3 tbsp Nido dry milk in ½ cup water.
Remove plastic wrap from dough and knead for a few seconds. The semolina should have now absorbed the butter. Add in the rose water and combine. Add yeast mixture and combine.
Begin to knead the dough while slowly incorporated the milk.
Assembling the cookie
Make small balls of dough for each cookie
Create small crater in the dough with your thumb
Place a small amount of date or walnut filling in the middle
Close the dough to conceal the filling
Place the date/walnut filled dough inside the cookie mold and flatten to shape***
Hit mold against a surface in order to remove the cookie without changing the shape. Place on a pan.
Preheat the oven at 350º. Bake for 20 minutes or until the bottom of the cookie begins to brown****
After the cookies are done baking, allow to cool for 5 minutes before transferring to a pan or tray to cool completely*****
Top cookies with powdered sugar and plate festively.
Enjoy!
Notes
*Vegan butter can be used as an alternative
**1/2 cup whole milk or non-dairy milk can be substituted for Nido milk
***Mamoul cookie molds can be found at any middle eastern supermarket. If you don't have the molds, you can shape the dough into rings, rectangles, diamonds, or any shape you'd please.
****Make sure to place pan on the bottom rack, never on the top rack.
*****Transfer to a pan or tray lined with paper towels, so excess moisture can be absorbed. Allow cookies to cool completely before storing in a Tupperware.
− If you want to save the cookies for another occasion, place in the freezer. When you want to serve them, take the cookies out of the freezer and allow them to thaw for 30 minutes. Heat and serve.
− Cookies are served with powdered sugar sprinkled on top, however my family prefers them without as they have the perfect amount of sweetness without the added sugar.
Tatreez: Stitching Cuisines http://stitchingcuisines.com/